Amazon Apple Facebook And Google Case Study Solution
By Sarah Evelyn Harvey, Techonomy Contributor
Google, Facebook, Amazon, and Apple: four Internet companies that are, arguably, the best of the best. They're global goliaths that leave little room for competitors in a fast-growing online world. At the Techonomy conference outside of Tucson, Ariz., an afternoon panel explored why these companies succeed, how they can keep growing, and whether they are stifling innovation.
"They are all true platform companies," said speaker Alec Ellison, an investment banker at Jefferies. He highlighted how the companies are both offensive and defensive as they grow. "In varying degrees they are playing in commerce, they are playing in media, they have tablet and smartphone capabilities, and in most cases they have a platform for developing applications," he said.
Other panelists included Steve Hasker of Nielsen, analyst Mark Mahaney, and moderator Eric Savitz of Forbes. They couldn't agree on which company is the cream of the crop, or how one might someday distinguish itself as the very best. Hasker identified quality video content as a key to growth, while Mahaney and Ellison pointed to big data, a common theme at Techonomy 2012. Google has collected the largest set of data, said Mahaney, but Amazon's consumer-driven data is more interesting, and potentially more profitable.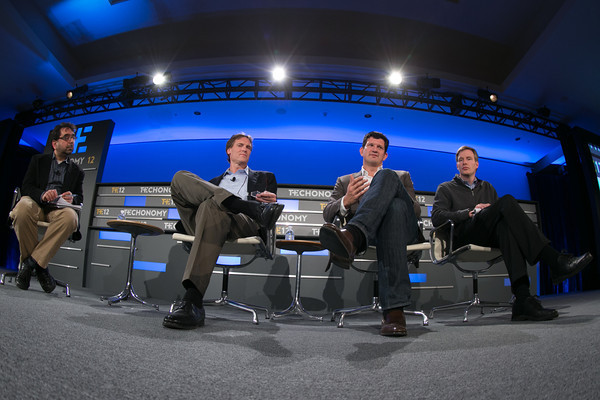 In light of its underwhelming IPO, Facebook was an inevitable a topic of debate -- specifically whether or not it deserves to be a member of this elite group. Identifying its powerful customer base, immense scale, and access to a hard-to-reach audience, the panelists agreed: Facebook is here to stay, for now. Still, questions remain surrounding its elusive management team. "David [Kirkpatrick] has spend as much time with Zuckerberg as anyone has, and that is a bit of a problem," said Mahaney, pointing to the Techonomy founder's thorough and acclaimed book, The Facebook Effect. "Not enough people know these guys." Mahaney also identified Facebook's high margins and delayed adoption of mobile as barriers to growth.
But the big question was whether the four are too big, sucking out the competition from smaller players. According to Mahaney, opportunities for innovation do exist, but in niche areas rather than on a broad scale. But are Google, Facebook, Apple, and Amazon abusing their power? Near the end of the panel, Techonomy's David Kirkpatrick identified an important differentiating characteristic of Google: it is the only company of the four to have been prosecuted for anti-trust. The panelists debated whether Google is unduly concentrated in one business, and agreed that other companies may also be at risk. But, that won't stop eventual innovation.
"Who will be at Techonomy in 10 years?" asked Ellison. "A company that is using new technology that isn't economic yet." Or, the Techonomists of the future.
Watch continued live streaming video of Techonomy 2012 today and tomorrow at www.techonomy.com. Follow and tweet about the conference using the hashtag #techonomy12.
Follow Techonomy on Twitter: www.twitter.com/techonomy
Case | HBS Case Collection | January 2013 (Revised December 2013)
Amazon, Apple, Facebook, and Google
by John Deighton and Leora Kornfeld
Abstract
Four businesses had, by 2012, grown to dominate the infrastructure that all firms rely on to reach online customers. Will the balance of power among the four persist, will one take command at the expense of the other three, or are all four more vulnerable than they seem to outside forces? What are the implications for the pace at which consumers go online? Amara's Law claims that we tend to overestimate change in the short run, and underestimate it in the long run.
Keywords: Online Technology; Internet; Competitive Advantage; Infrastructure; Mobile Technology; Growth and Development; Service Industry; Retail Industry; United States;